Night or weekend getaways in the Cuyamaca Mountains!
The Descanso Rock Cabin
Sandy Arthurs, proprietor
25121 Oak Lane, Descanso, CA 91916
For Reservations please call (760) 504-9707 (9am - 9pm)
Email: rockcabindescanso@gmail.com
Call or email for availability.
General Information
| | |
| --- | --- |
| | This historic rock cabin is nestled among large oak trees and boulders along Descanso Creek. The town of Descanso is located in beautiful Cuyamaca State Park outside San Diego. Come enjoy this fully furnished cabin, easy access to miles of hiking, biking and horse trails, and many other nearby activities. |
| | |
| --- | --- |
| The cabin is fully furnished with a private bath, a complete kitchen, and a private bedroom with a king bed. Additionally, there is a twin bed in the living room area. The living room has a fireplace and CD player. Also included is an assortment of books, games and music for your enjoyment. Outside the cabin is a jacuzzi and a gas BBQ. Towels and bedding are provided. | |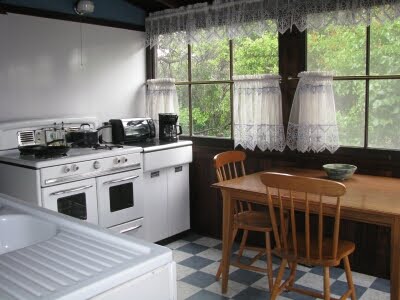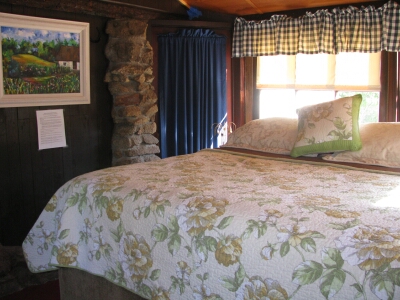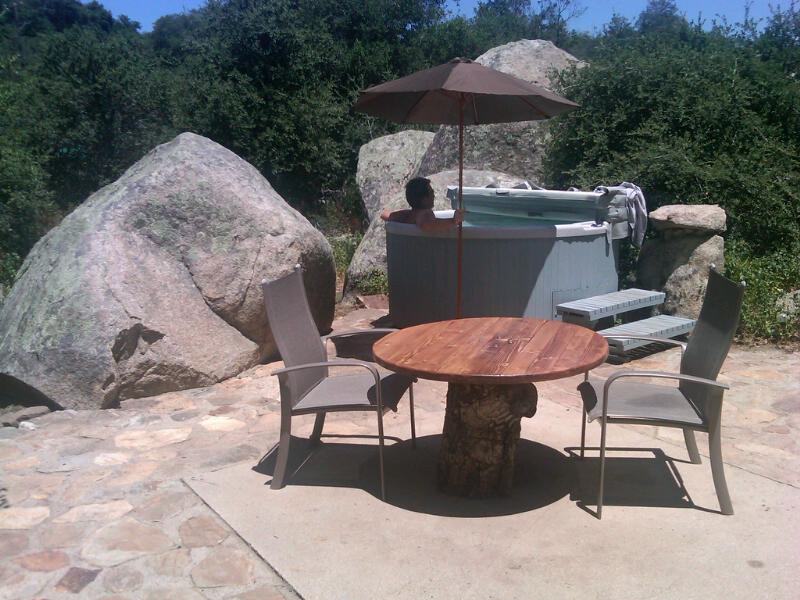 Things To Do
There are many things to do and places to see in the nearby areas:

•Descanso also has a general store, shops, restaurants, churches, library, and Friday night movies, pancake breakfasts (every 2nd Sunday of the month) and other events at the Town Hall.

•Cuyamaca State Park (5 minutes, Hwy 79)- Campgrounds, hiking, biking & horse trails, fishing at Lake Cuyamaca, museum and visitor center.

• Julian (30 minutes, Hwy 79) - A quiet mountain town founded during the 1870s gold rush has shopping, restaurants, and their famous apple pies!

• Viejas Casino and Outlet Center (15 minutes, Interstate 8) - Gambling, race book, restaurants, live music and over 50 outlet shops.

•Laguna Mountain The mountain is the perfect playground for hiking, mountain biking, star gazing, and relaxing.

•Flinn Springs Park Flinn Springs Park is a day use park located in the East County. It can accommodate picnic groups from small family gatherings to groups of up to 500. There is a gazebo area available for weddings. Everyone will enjoy the lawn areas, the stands of old oaks, and the stream flowing through the middle of the park.
Reservations/ Rates
Please call (760) 504-9707 or email rockcabindescanso@gmail.com
• Rate: $160 for one night (2 night minimum stay over weekends). $125 per night for 2 or more nights (double occupancy).

• Special Package: $320 - 3 nights

• Check in after 3pm; check out 11am.

• Rates subject to change.
| | |
| --- | --- |
| | This rock cabin was built in 1934 and started as a 220 square foot, one room retreat with a sleeping loft. In the 1940's two more rooms were added plus a porch. Soon after, the privy was moved indoors and a larger kitchen was constructed. The cabin was originally built by Peter Jacobs who was the developer in Old Descanso Park. The cabin was constructed in the craftsman style and faced with local rock. If you look closely you can find some garnets embedded in the stone.There are many matates carved into the rocks by the original inhabitants of this area. There is even a petroglyph carved into the front step of the cabin, believed to have been drawn by its builder. This area is filled with history and charm. Please help to preserve it! |
Take Interstate 8 about 20 minutes east of San Diego to the Japatul Road Exit. Head north for about 2.5 miles and turn left onto Highway 79 (Look for the "Cuyamaca State Park/ Julian" signs). Take an immediate left at the fruit stand/ market onto Viejas Blvd. After 1/4 mile, turn right onto Manzanita Lane. Take your first left onto Oak Ln. (a dirt road). Take the road around the bend to 25121 Oak Ln.

For maps or driving directions from Mapquest click here.
Email: rockcabindescanso@gmail.com
Call or email for availability.
Visits Count